VFPMC FORMATION AND CAPACITY BUILDING
2013-14:
The RFBP Phase II project is into its 2nd year and has already created a curiosity among the villages of the project area. The formation of VFPMC [Village Forest Project Management Committee] is a huge task as it involves convincing village community to take up the project and work in tune with forest department for the development of forest. The following were the activities carried out for the formation of VFPMC:
i. Conducted participatory rural appraisal to understand the opinion of village community
ii. Conducted village assessment in order to understand its setup (economic and social).
iii. Focused group discussions with the village community and forest department personnel.
iv. Appointment of various personnel for the VFPMC setup.
v. Final approval and registration of the VFPMC by the forest department.
Navyug Vikas & Anusandhan Sansthan worked closely with the village community to form VFPMC's. The formation work continued in 2013-14 as well. There were total 9 VFPMC's which were formed:
1. Jaimalsar village
2. Bajju Tejpura village
3. Miyan Ka Dher (Gokul) village
4. Kolasar West village
5. Jarkhari village
6. Amarpura village
7. Tharoosar village
8. Jodhasar 1 DM village
9. Bangarsar village
Capacity Building is the process by which individuals, groups, organizations, institutions and societies increase their abilities to: perform core functions, solve problems, define and achieve objectives; and understand and deal with their development needs in a broad context and in a sustainable manner. As part of the project it was necessary to do capacity building of VFPMC member's so that they can perform the task's given to them in an efficient manner. Our experts by the end of 2013-14 completed the task of capacity building of all the 18 VFPMC's formed. The following were the topics discussed during the capacity building:
a. Role of community, agency and forest department personnel.
b. SWOT analysis.
c. Strengthening of VFPMC's.
d. Forest conservation.
Previous Years: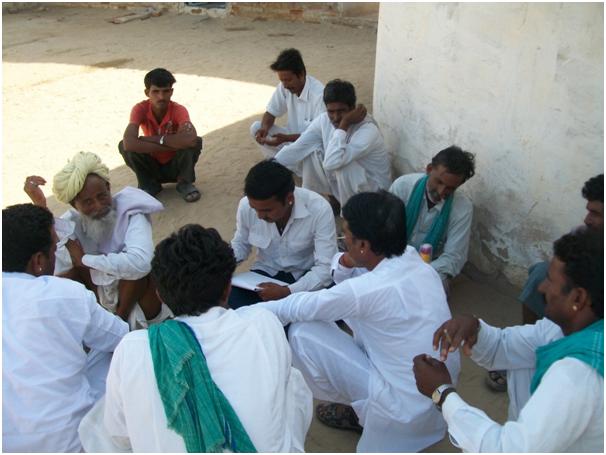 Village forest protection management committee (VFPMC) is the main organization who will manage all the activities related to village under Rajasthan forestry and Biodiversity Project, Phase II
VFPMC are formed in project villages in accordance with the JFM resolution (dated 17th October 2000) of the state. The Project adopts a cluster approach, which a group of several villages in proximity may be formed, in order to increase effectiveness of activities by taking scale advantage, as well as to encourage efficient implementation and monitoring of the project.
VFPMC/EDC is empowered to undertake project activities and about 9 VFPMC are trained to manage funds in an efficient and transparent manner; Funds are transferred to VFPMC/EDC in a phased manner by DMU on the basis of their approved micro plan.
One of the major targets of camp was to bridge the differences in views of villagers towards concerned government and partner agencies and other grassroots level organization and to manage sustainable natural resources that will initiate effective conservation of biodiversity through conservation based management on priority species of the corridor. Building close coordination between communities, local bodies, government line agencies and concerned stakeholders of cross boundary area will further strengthen the conservation of key species in the desert villages by enhancing their capability on protection, monitoring and mitigating threats to conservation.
VILLAGES
VFPMC FORMED AND TRAINED
RANGE FIRST
SIYASAR
√
PAHLWAN KA BERA (RANISAR)
√
RANDHISAR
√
RANGE FOURTH
TWM (JAGASAR)
√
TANWARWALA
√
KARNISAR
√
RANGE SEVENTH
PANCHPITH KI DHANI
√
GOGADIYAWALA (MEGHWALO KI DHANI)
√
GRANDHI
√
The accounts of VFPMC are audited on an annual basis. The Performance of VFPMC/ and EDC is systematically assessed by the PMU on an annual basis.