Lively hood training & capacity building
SHG Training & Capacity Building
2013-14:
SHGs are good example of managing limited resources and helping each other. However, this is different when it comes to arranging finances. Lack of knowledge and awareness about the banking system always leads to limited finance for the SHG business. National Bank for Agriculture and Rural Development (NABARD) came up with the scheme of Grant Assistance for Promotion and Linkage of SHGs in various Districts of Rajasthan. As per the scheme the partner organization of NABARD will be provided grant for assistance for promotion and bank linkage of 50 SHGs in Bikaner District.
Navyug Vikas & Anusandhan Sansthan agreed for the scheme and started working towards the formation of SHGs in Bikaner District. The project started in 2011 and has entered into its 3rd phase in 2013-14. The following are the salient features of the scheme:
1. Formation of 50 SHG comprises of 15-20 members in each SHG.
2. Capacity building of the SHG members.
3. Training on book keeping and accountancy.
4. Bank accounts are opened for all the SHGs associated with the scheme.
5. Motivation of SHG members toward the savings
6. Bank linkage for availing the loan for their respective business.
Scheme Progress:
i. Formed 50 SHGs till date.
ii. Capacity building is done for all the SHGs formed till date.
iii. Provided trainings on booking keeping and accountancy.
iv. Bank accounts are opened for all the SHGs formed till date.
v. All the SHGs have put some money towards the savings.
vi. Bank loan has been provided to 15 SHGs amounting around 15 Lacs till March 2014.
Previous Years:
We kept continuing different kinds of youth Trainings to poor and needy women's and of Bikaner, CHURU and NAGAOUR like past years.
NABARD'S GRANT ASSISTANCE FOR PROMOTION & LINKAGE OF 50 SHGs IN BIKANER DIST
PROJECT PERIOD:
2011-2012 TO 2014-2015
WITH BEGINNING of financial year 2012-13 the project entered in its second phase. It was pre decided that by the end of this session all SHG would have opened their account in bank with some fixed minimum savings.

By the end of financial year 2012-13 all the 50 SHG had been trained by three trainings on capacity building and book keeping. Now they are ready for final stage that is bank linkage.

Three SHG had already taken a loan of RS 45,000.
| | | |
| --- | --- | --- |
| NAPASAR & KALYANSAR | SINTHAL | RANIBAZAR, BIKANER |
| 15 SHG | 2 SHG | 4 SHG |
| LAL GARH, MP COLONY & SARVODAYA BASTI | DESHNOK | BHINASAR |
| 6 SHG | 9 SHG | 2SHG |
| INDRA COLONY & RAMPURA BASTI | GARSISAR | JASUSAR GATE |
| 2 SHG | 5 SHG | 2 SHG |
SJSRY TRAININGS AND CAPACITY BUILDING:
In the year 2012-13 about seven to eight Trainings were provided by agency especially in three trades of lively hood generation namely- [I] Soft toys making [II] Readymade garments and making [III] Mobile repairing -Training. Detail of these training can be seen below with no of participants.
| Name Of Trade | Training Duration | No. Of Participants | Place OF EXECUTION | Concerned Department |
| --- | --- | --- | --- | --- |
| Soft Toys Making | 3 Month | 30 | NAGAUR |  NODAL OFFICER [SJSRY] /. STATISTICS OFFICER NAGAUR |
| Readymade Garmenting | 3 Month | 35 | CHURU | NAGAR PRISAD CHURU |
| Soft Toys Making | 3 Month | 20 | DESHNOK | PD SJSRY, BKN/ NAGAR PARISAD DESHNOK |
| Soft Toys Making | 3 Month | 20 | DESHNOK | PD SJSRY, BKN/ NAGAR PARISAD DESHNOK |
| Mobile Repairing | 3 Month | 20 | BIKANER | PD SJSRY, BKN/ NAGAR NIGAM BIKANER |
| Soft Toys Making | 3 Month | 20 | BIKANER | PD SJSRY, BKN/ NAGAR NIGAM BKN |
All the above trainings had some common features, and they are –
Trainees were from BPL families.
After training trainees either got employed or started their own work to earn lively hood.
The agency provided Handholding for additional few months.
Preference was given to Women's from poor and needy background (BPL families) and after training women's agreed to continue the SHG formed during training period.
Some group had already bank linked. Now they are preparing to get linked to market  with support  of NYVAS 
Today in the competitive consumer & market oriented world trends changes rapidly and so earning lively hood by conventional training methodology doesn't working or puts a very less impact on Trainee.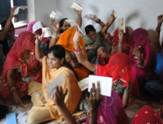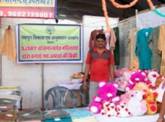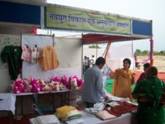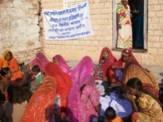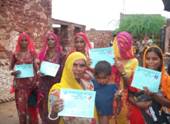 Keeping the above facts in our mind this year we started a new line of earning for such trainees. At though it's in experimental stage and future lies on no. of more trainings that agency will get in coming financial year.
The above pattern had already been implemented in the year 2012-13 by us. Initially we started it for SHG formed at DESHNOK and Bikaner.
Soon some pattern shall be adopted for every training we get & all the produce shall be collected at BKN head quarter & from here distribution shall be done depending on demand NGO helps them at every stage i.e. right from formation of SHG to selling in market and loan repayment.