SURVEY AND PLANNING OF MORE THAN THREE VILLAGES
Under BADP(Border Area Development Project)
The main objective of the BADP is to meet the special developmental need of the people living in remote and inaccessible areas situated near the international border and to saturate the border areas with the entire essential infrastructure through convergence of Central/State/BDAP Local schemes and participatory approach.
The BADP is continued to be a 100% centrally funded program. The BADP would cover 362 border blocks, which are located along the international border and come under 96 border districts of 17 states viz. Arunachal Pradesh, Assam, Bihar, Gujarat, Himachal Pradesh, Jammu & Kashmir, Manipur, Meghalaya, Mizoram, Nagaland, Punjab, Rajasthan, Sikkim, Tripura, Uttar Pradesh, Uttarakhand and west Bengal. Funds will be allocated to the States on the basis of (i) length of international border. (ii) Population of border blocks and (iii) area of border blocks with these criteria having equal weightage. Besides, 15 % weightage will be given to hilly, desert and Rann of Kutchh areas account of difficult terrain, scarcity of resources, higher cost of construction etc.
The border block will be the spatial unit within which the state Government shall arrange to utilize BADP funds only in those villages of the blocks, which are located 'which are located nearer to the international border will get first priority. After saturating these villages with basis infrastructure, the next set of village locates within 0-15 km and 0-20 km need to be taken up. If the first village in a block is located at a faraway location from the international border, the first village\hamlet in the block may be taken as "0" km distance village for drawing the priority list.
State governments executing BORDER AREA DEVELOPMENT PROJECT with help of Local self-government. ZILA PARISAD, BIKANER is executing BADP in Bikaner district. For better implementation of project it was necessary to have detailed information of all the villages coming in the periphery of project area. For this ZILA PARISAD, BIKANER selected two blocks KHJUWLA AND KOLAYAT, and hired us i.e. NYVAS (Nav Yug Vikas and Anusandhan Sansthan, Bikaner) a leading NGO of western Rajasthan through proper channel.
We completed the whole work within the prescribed time limit with help of our vast field staff & high profile team at office. Wide area and less time made this project very challenging for us. The team worked very hard throughout the period and over comes all the hurdles which when came to the way. We are providing you the basic information about base line survey methodology that we had adopted for completion of project along with detailed information about position, available infrastructure at each village and infrastructure required in next 20 years.
All the information and of data regarding to villages are true and correct as per our surveyor as they had collect these information right from the VILLAGERS and GRAMSEVAKS and get it verified by SARPANCH of that particular village PANCHAYAT. However a slight variation may one can find at the time of their visit to that particular village area because it is impossible to collect bit by bit information of inch by inch places with provided time limit.
OBJECTIVES OF THE PRESENT PROJECT
The major objectives of a survey were:
To determine the precise location of village Panchayat and chuk/Dhanis.
To determine the precise population distribution in a given area.
To determine the available infrastructure at all villages and its Dhanis.
To know actual condition of available infra structures.
To know the basic hurdles faced in developing infrastructures at particular site or village.
METHODOLOGY ADOPTED:
GPRS TECHNOLOGY (A HI-TECH METHODOLOGY WHICH IS A COMBINATION OF BOTH MAN AND MACHINE)
Step I Manual ground survey along with satellite – use of Google Earth Pro:
In all there were 196 revenue villages and more than 250 sub village [chak/ dhani] in whole KOLAYAT BLOCK as divided in segments namely:-
GAJNER BLOCK, KOLAYATBLOCK, BITHNOK –SURJARA BLOCK, BAJJU-SEVRA BLOCK, BARSALPUR BLOCK and RANJITPURA BLOCK
Out of 24 members 20 members team were sent to field and 4 member team the charge at office. At each block 2 members were deployed for Data collection and one member as their head. All the members were linked directly from head office with mobile phone with net connection. 2 persons at head office were made available from 7:00 am – 11: am to 4: pm to on computer or laptops connected with internet to coordinate the field staff through GPRS.
Step II Data collection phase (35 days):
Field members were guided from head office, through Google earth pro. It helped in locating the actual position of village. At though existing structures can be seen at village satellite map. Since the images were taken on Sep 2010. so, it was necessary to send the team to field location to verify the present condition of infrastructure and changes occurred in 2 year.
Step III Data Evaluations & Compilation:
After completion field work the collected data were analyzed and summarized in tabular manner and on behalf of evaluation of data next 20 year plan was proposed.
Step IV Infrastructure development plan for next 20 years:
While developing the plan it was very necessary to keep various growth trends in mind. Some of these are 1. Human Population growth trend 2. Animal (livestock) population growth rate 3. Technological advancement and many more
Step V Data up loading & plan presentation:
The prepared plan was presented by ZILA PARISAD and NYVAS to COLLECTOR, BIKANER and MLA & M.Ps of related zone for final approval.
Soon rest of the world would get the relevant data of these villages as these data would be uploaded to the web site of ministry of Home Affairs.
Parameters used for base line survey and infra structure planning:
(1) Education
Primary/Middle/Secondary/Higher school buildings (including additional rooms)
Development of play fields.
Construction of hostels/dormitories.
Public libraries and reading rooms
(2) Health
Building infrastructure (PHC/CHC/SHC)
Provision of medical equipments of basic/elementary Type, X-Ray, ECG machines, equipment for dental clinic, pathological labs, etc. can also be purchase.
Setting up of mobile dispensaries/ambulances in rural areas by Govt./Panchayat Raj Institutions including Tele medicine
(3) Agriculture and allied sectors
Animal Husbandry & Dairying
Pisciculture
Sericulture
Poultry farming/Fishery/Pig/Goat/Sheep farming.
Farm forestry, horticulture/floriculture.
Public drainage facilities.
Construction of irrigation embankments, or lift irrigation or water table recharging Facilities (including minor irrigation works).
Water conservation programs.
Soil conservation-protection of erosion-flood protection.
Social Forestry, JFM, parks, gardens in government and community lands or other Surrendered lands including pasturing yards.
Use of improved seeds, fertilizers and improved technology.
Veterinary aid Centers, artificial insemination Centers and breeding Centers.
Area specific approach keeping in view the economy of Scale-Backward-Forward Integration.
Construction of mini open stadium/ indoor stadium. /auditoriums.
(4) Infrastructure:
Construction and strengthening of approach roads, link roads (including culverts & -Bridges).
Industries – Small Scale with local inputs viz handloom, handicraft, furniture making tiny units, black smith works etc. and food processing industry.
Provisions of civic amenities like electricity, water, pathways, ropeways, foot bridges, Hanging bridges, public toilets in slum areas and in SC/ST habitations and at tourist Centers, bus stands etc.
Development of infrastructure for weekly haats/bazaars and also for cultural activities etc. in border areas.
Construction of buildings for recognized District or State Sports Associations and for Cultural and Sport Activities or for hospitals (provision of multi-gym facilities in Gymnastic centers sports association, physical education training institutions, etc.)
Construction of house for officials engaged in education sector and health sectors in Remote border areas.
Tourism/Sports/Adventure Sports Scheme – creation of world class infrastructure for Tourism and sports in border block where ever feasible- like rock climbing, Mountaineering, river rafting, forest trekking, skiing and safaris (car/bike race, camel-safaris, yak riding, boating in Rann of Kutchh.
Creation of new tourist centers.
Construction of mini open stadium/ indoor stadium. /auditoriums
(5) Social Sectors
Construction of community centers.
Construction of Anganwadis.
Rural Sanitation blocks.
Cultural Centers / community Halls.
Construction of common sbelters for the old or Handicapped.
Capacity building by way of vocational studies & training for youth for self-employment and skill up gradation of artisans and weavers.
(6) Miscellaneous:
Development of Model villages in border areas.
E- chaupals/ agrishops/ mobile media vans/ market yards.
Cluster approach wherever feasible.
General guideline to handle the Interview during base line survey
The following practical guidelines were provided for conducting the household interviews:
• Conduct yourself in a relaxed, informal way, but be thorough. Follow the questionnaires carefully.
• Make sure that you understand the exact purpose of each question of the different MODULES.
This will help you to know if the responses you are receiving are adequate.
The detailed instructions that follow will help you to identify these purposes.
• Ask the questions exactly as they are written. Even small changes in wording can alter the meaning of the question.
• Avoid inconvenient times for interviewing, such as meal times. Try to arrive when the respondent will not be too busy to answer questions.
• Greet the family members in the traditional way. Introduce yourself by name and show your identification. Explain the study and why you wish to interview the household.
• Be prepared to explain what confidentiality means, and try to persuade respondents to participate if they are reluctant, assuring them the information they provide will remain confidential.
• If the respondent refuses to be interviewed, note the reasons on the questionnaire, if possible.
• Remain calm and polite at all times.
Solutions to surveyors towards general hurdles faced during base line survey:
Contacting Sample Households
After identifying the list of households in each cluster based on the above mentioned criteria, the Enumerators must visit all these households, even if it means returning repeatedly until they find somebody at home.
What if nobody is at home?
Ask the neighbors whether the house is inhabited. If it is known when the household members will return, arrange with your supervisor to go back to the dwelling when it will be occupied, or at the end of the day.
What if no adult is at home?
Arrange to come back at another time, when the caretaker of the household will be at home. Do not interview a temporary caretaker of the children, such as a babysitter.
What if nobody is at home on a return visit?
Mark this household on your form as "missing". Your supervisor may ask you to revisit these households, or to visit another household.
How is a family or household defined?
A family is defined as "people who lived together and ate from the same pot. Nuclear members of the family should be considered as part of the household, even if they live away". This would include, for example, a son working in the city or a daughter going to school elsewhere. However, this does not apply to non-nuclear members of the household.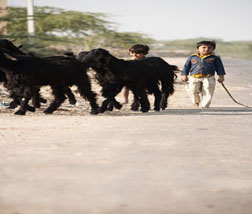 ANIMAL HUSBANDARY, POTTERY AND TOURISM ARE POTENTIAL LIVELYHOOD OF HABITANT OF KOLAYAT BLOCK
BRICK FACTORY LOCALLY CALLED EINT BHATA COMMONLY FOUND AROUND KOLAYAT, GURAAND JHAJHU
There are many places in KOLAYAT BLOCK WHICH COULD BE CONVERTED INTO TOURIST ATTACTING PLACES IF PROPER ATTENTION IS GIVEN TO SUCH SITES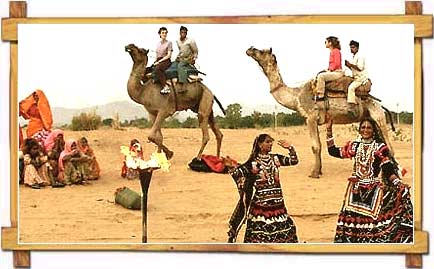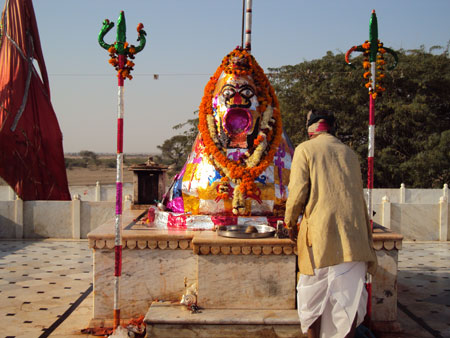 Under BADP potential places can be rejuvenated Like this BHAIRONJI KA TEMPLE OF KODAMDESHSAR
Under BADP one of the major targets is to connect even remotest habitation of Chak/Dhani of villages of kolayat block.
ONCE A DESERT NOW AT FULL BLOOM, THANKS TO RAJASTHAN CANAL
RADIUS AROUND EARTH –AN IMPORTANT APPLICATION SOFTWARE WAS USED TO VERIFY THE DISTANCE OF VILLAGES FROM LINE OF CONTROL [JNDO-PAK BORDER]
GAJNER WILD LIFE SANCTURY
WORLD FAMOUS OASISI IN DESERT
COULD SERVE A GOOD SOURCE OF INCOME TO IT'S NEAR BY HABITANTS