FARM SCHOOLS
Number of farm schools organized:
7
Village Location of school:

1. BADRASAR (BIKANER RURAL)
2. GIGASAR (BIKANER RURAL)
3. BADNU (NOKHA)
4. PITASAR (NOKHA)
5. HIMATSAR (NOKHA)
6. 23 KMD (KHAJUWALA)
7. KOLAYAT (KOLAYAT)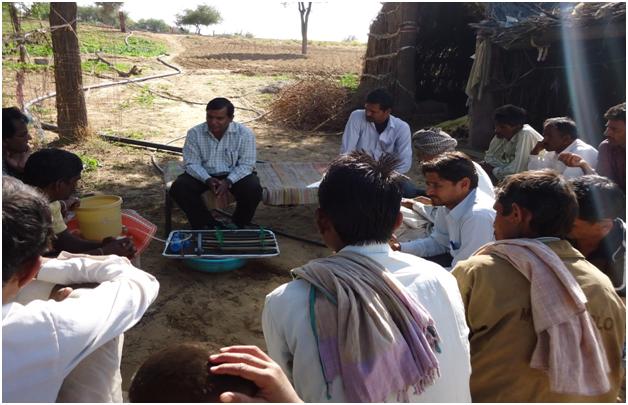 Agriculture expert explaining the use of drip irrigation in wheat crop at HIMMATSAR village, Bikaner
ABOUT FARM SCHOOLS
Farm Schools provide the vital link between the progressive / achiever farmers and others in a village. Such farmers are selected broadly adhering to transparent methodology of selection described below. These farmers are normally the ones who have been accepted by other farmers as achiever farmers for their success in adoption of technologies, yield difference, and income raised in agriculture and other allied sectors.
THEME OF FARM SCHOOLS:
1. Demonstration of new crop packages
2. Water budgeting of specific crops
3. Promotion of water saving techniques in crops
4. Skill and capacity building of farmers
SELECTION OF BENEFICIARIES: (as per ATAMA Guideline)
Transparent and objective based selection of beneficiaries is of paramount importance not only to generate confidence of the farmers in the Scheme but also to ensure that benefits of extension services get disseminated to all sections of the Society.
Therefore, selections of beneficiaries are done in the following manner:
1. Preferably, all PANCHAYATS in a Block should be covered on a rotation basis under various components. The PANCHAYATS to be covered in a year are decided by the BTT in consultation with the BFAC.
However, in some peculiar cases, commonality of approach under area specific projects / schemes or other administratively pragmatic factors may also be given due consideration for reasons to be recorded in writing and conveyed to ATMA.
2. Number of beneficiaries of different categories including SC/ ST in shortlisted Panchayats is decided by the BTT in consultation with BFAC so as to have a balanced coverage.
3. At least 50% beneficiaries are small and Marginal Farmers and 30% beneficiaries are women farmers / farm women.